St Céré & Dordogne Valley
Welcome to the Dordogne Valley, between Haut-Quercy and Périgord.
Situated in the north of the Lot department, at the foot of the Massif Central and to the south of the Dordogne Valley, the town of Saint-Céré offers a wealth of discoveries, as does its immediate environment.
By staying at the Logis Hôtel Le Victor Hugo, you will have the opportunity to discover the amazing architectural heritage of Saint-Céré, its old houses, its private mansions, its pretty Place du Mercadial classified as a Historic Monument, embellished with a fountain and surrounded by picturesque stone and half-timbered houses. Close to the old town are the Towers of Saint-Laurent (12th and 15th centuries), remains of the former castle of the Viscounts of Turenne. For more ideas, click here.
Don't hesitate to ask us, we will be happy to advise you.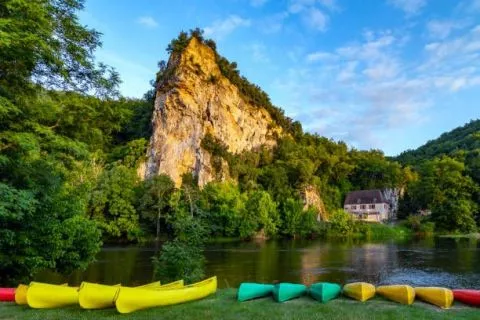 Things to see and do around Saint-Céré
If you go further afield, you will have the choice of visiting numerous villages, castles and other remarkable sites, among them
The picturesque village of Autoire (6 km)
The perched village of Loubressac overlooking the valleys of the Dordogne, Bave and Cère (7km)
The castle of Castelnau-Bretenoux, a 12th century medieval fortress (7km)
The Gouffre de Padirac (12 km)
The village of Beaulieu-sur-Dordogne, jewel of the upper Dordogne valley (14 km)
The beautiful medieval village of Carennac (14 km)
The sacred city of Rocamadour (23 km)
Saint-Cirq Lapopie (66 km) - a masterpiece of the medieval period, perched on a cliff in a meander of the Lot
Sarlat, capital of the Périgord Noir (75km)
Nature lovers, lovers of outdoor leisure activities, sports, fishing, swimming (lake and river) and beautiful walks will not be left out with the pretty Dordogne Lotoise Valley which offers many possibilities and the 9-hole golf course at the foot of the Montal castle. Numerous GR circuits pass not far from the Logis Hôtel Le Victor Hugo and in particular the paths on the Santiago de Compostela route.